expand your field of vision
peakboard
You've never seen your data like this. wow.
Peakboard is the best all-in-one solution for illuminating and efficient data visualization. It lets your data and processes appear in a completely new light. Whether it's Andon boards, logistics dashboards, or corporate digital signage, Peakboard makes it easier than ever to visualize processes, data, and metrics on enterprise displays. Peakboard makes the life of every user better. It brings completely new insights. It not only makes the data visible, but also illuminates the connections.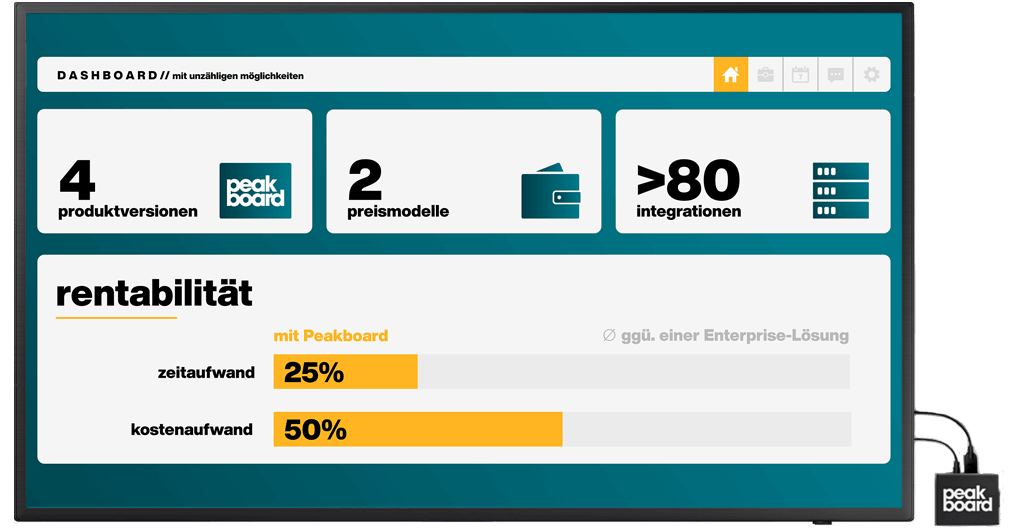 complicated was yesterday!
peakboard
You have never seen a visualization solution like this before.
Gone are the days when the data from the source to the visualization had to be extracted, cached, cleaned and transformed in many steps before finally being transferred to the LED screen. With Peakboard you can create the visualization of processes, data and key figures on all conceivable displays in no time. Without installation effort. Without programming knowledge. But with enlightening results.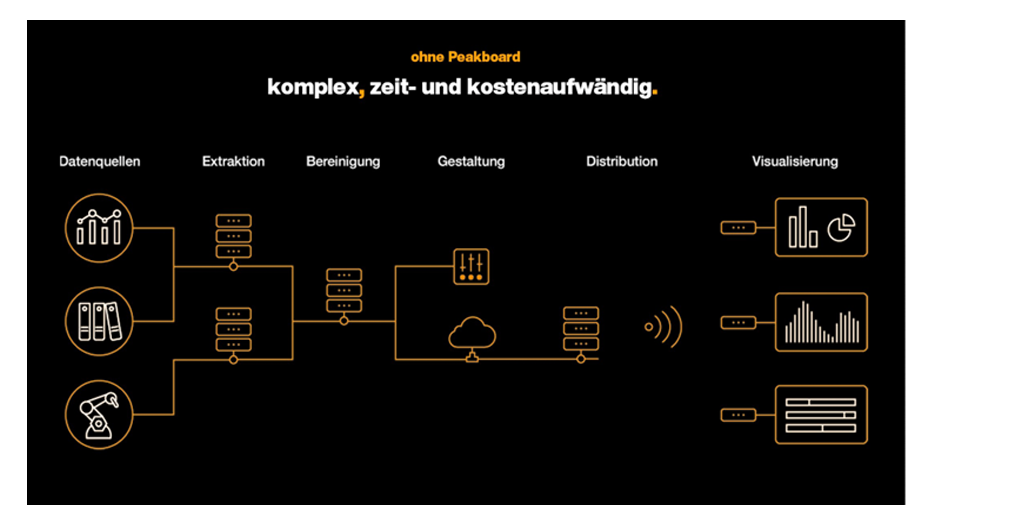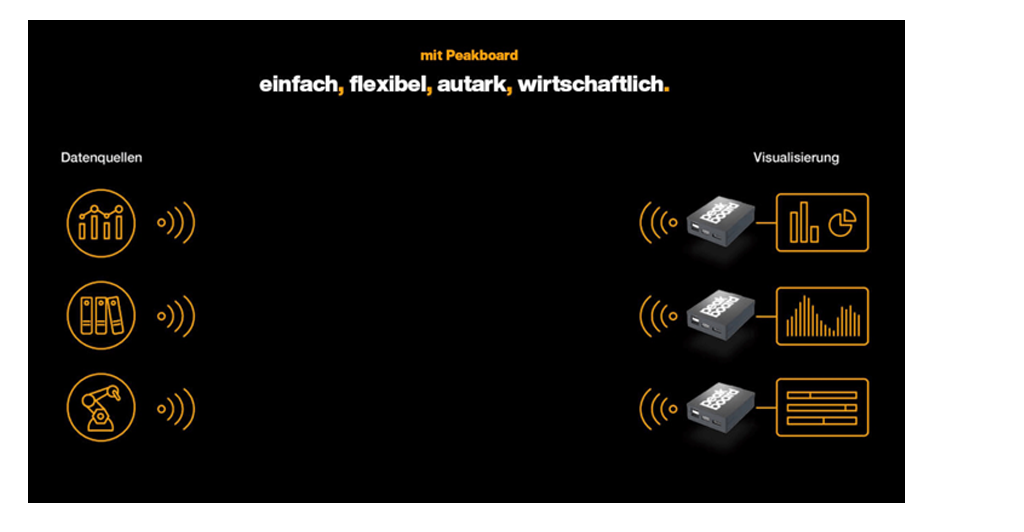 peakboard
digital workplace
Peakboard equips every industrial workstation with its own intelligence and logic so that your data appears in a completely new light. Networks and visualizes data sources, closely matches communication between man and machine to the respective tasks, creates efficiency and clarity, and standardizes processes. And this reduces the error rate. Clever, isn't it?!
peakboard
which source is the right one? ALL!
Peakboard "fetches" the data directly from the source and visualizes it on the large screen. For this purpose, the visualization solution offers all necessary components for the aggregation of data from various sources (e.g. ERP systems) and visualization in real time. Without installation effort. Without the need for a central server. The complete Peakboard technology is contained in a small aluminium box - a combination of hardware and software.
Peakboard Edge
Peakboard Edge
When you connect the Peakboard Box to Peakboard Edge, you can also input or output the information you need directly via external devices such as switches, barcode scanners or signal lights. Simple communication at the speed of light.
peakboard hub
central management of your Peakboard boxes.
With Peakboard Hub, you can easily manage and overview all your Peakboard boxes from a central location. You use Peakboard Hub not only for the communication with your Peakboard boxes, but also as a communication platform between your Peakboard boxes and external devices.
peakboard
an illuminating overview of data connections.
From data formats such as JSON and XML, databases and SAP to social media and machine, conveyor and sensor information such as Siemens S7 and OPC UA. With Peakboard, a wide variety of data can be easily connected and visualized in real time. Here is an illuminating overview of the currently possible data connections.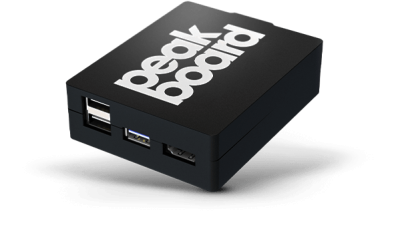 peakboard
find the right Peakboard box for you.
Peakboard can be used in companies with a wide range of requirements. Therefore, we offer Peakboard in four versions to provide our customers with products that are best tailored to their requirements and usage behavior.
peakboard
with Peakboard you become a designer.
Whether transferring ERP data from SAP, calling up PDF documents from the cloud or displaying sensor data in a dashboard - Peakboard Designer has all the necessary functions to create very different visualizations in a plausibly simple way.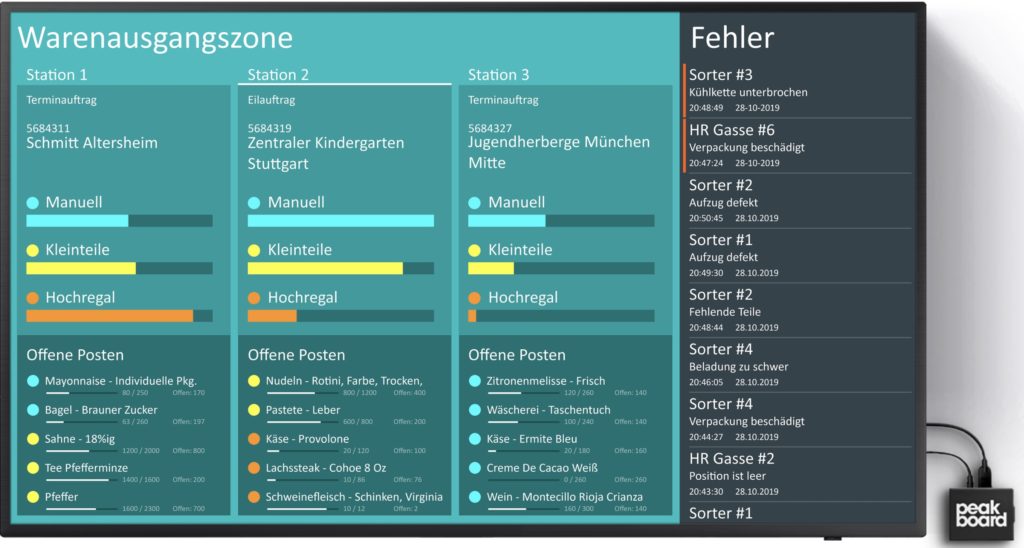 peakboard
the Peakboard designer.
Create a wide variety of visualizations with Peakboard. The Peakboard Designer has all the necessary functions on board. Start the Peakboard Designer on your PC and build individual, dynamic visualizations that are directly linked to your ERP, PLC or other upstream systems. You can find free templates in the Template Portal. Simply download Peakboard Designer for free and get started with the tutorials on our help page!