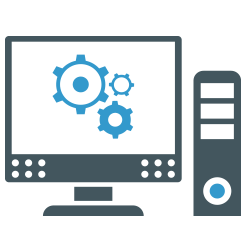 You want to record availabilities or downtimes of your production plants? But do you shy away from investing in complex PDA/MDA systems?
Or do you have production facilities with well-developed machine controls and want to store their data in a structured way at a common location in order to be able to evaluate them?
inSky has the solutions for you here. The inSky Services are able to store data from connected machines and systems in databases in a rule-based manner, all without your control technology having to deal with the issues of data management, database connection, etc. It is sufficient to either select a standard data model or to define one for your requirements. Based on this, your control technology is then in a position to transfer data from the machine controllers to the inSky Services to be transferred. Here, the data is still plausibilized if necessary, enriched with ERP data or other content and then made available in one of your databases.
The structured data from your systems are then available for further evaluation and visualization with any BI tool.